About Photo Shoots
Do you dislike photo shoots? I love photographing people who hate to be photographed. I love turning the experience around, and I love to show people their own fabulousness. Anyone.
Photo sessions are very relaxed. We simply put ourselves in the realm of possibility, and enjoy being creative together. It is all about energy. I do not take your picture. We create an environment where you easily give it to me. There is no pressure or time constraints. It is a joyful experience for me, and I strive to make it equally as pleasurable for you.
Some of my fees are on a slight sliding scale due to technology's effect on the income of musicians and artists in general.
MUSIC PROMO PHOTOS $650-$800 / GROUPS $800-$1000
CORPORATE PORTRAITS $1500
CORPORATE DAY RATE $2500
(all above includes assistant)
AUTHOR PHOTOS (website and promo use) $650-$800
BOOK FRONT COVER $1000 (includes promo use)
BOOK BACK FLAP $500
MAKEUP ARTIST (additional)
CD COVERS $1600
(includes promo use and assistant) Note: My CD cover fee has not been raised in four decades due to technology's effect on the income of musicians and artists in general.
Jennifer Berezan, comfy in shoot. My photo of Laura Nyro on wall.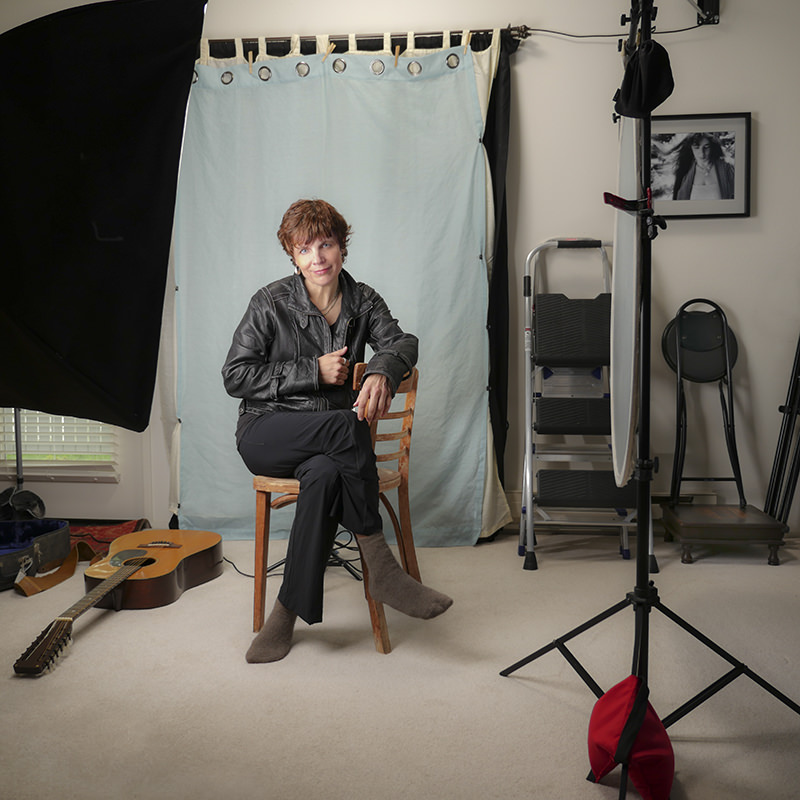 You may use as many images as you like for promo use. Included with the shooting fee are 2 initial images that are refined in the digital darkroom. Keep in mind I can spend about an hour on each image prior to final delivery. After the two initial refined images, there is a digital darkroom fee of $45 each for editing/refinement time.
Use on any items to be sold are not considered promotional.
Further negotiation is required for:
front, back or inside CD covers
front, back or inside books
front, back, or inside songbooks
T-shirts, bags, etc.
Magazine covers
DVD covers
PAYMENT
Cash, Paypal, Venmo and Checks are accepted. If you opt to pay with a credit card, I will invoice you following the shoot. If you are paying with check or cash, payment is due at the end of the shoot. Thank you.
It would be a pleasure to be creative with you. Together, we can create great images for you to send into the world.